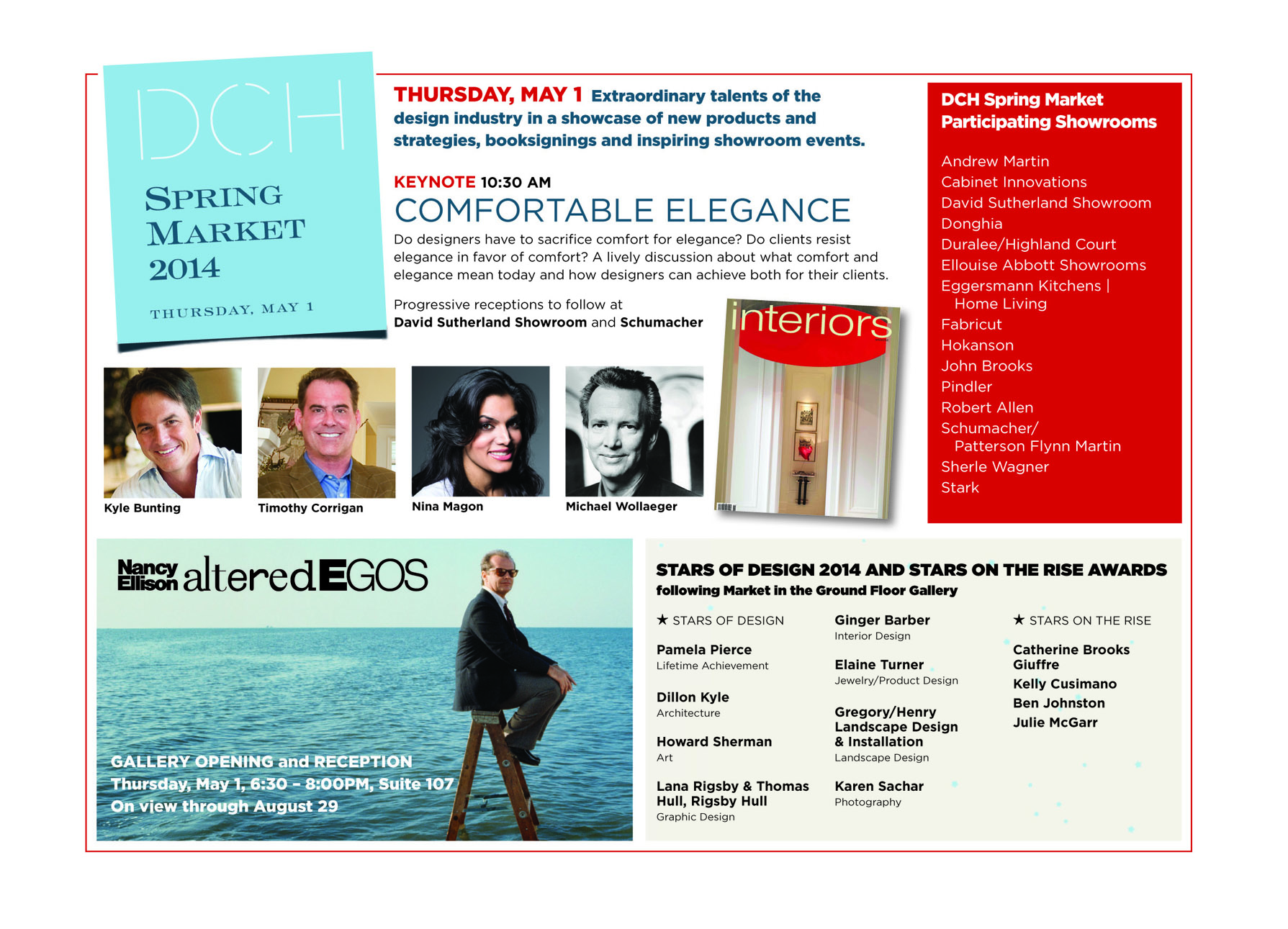 DCH Spring Market
May 1, 2014

Enjoy a full day of inspiring events celebrating the forward thinking of the best minds in our industry, new product unveilings, and book signings. 
Spring Market Schedule
9:30 AM – 10:30 AM
Robert Allen, Suite 141
Make Social Media Work for You with Houzz
Learn the ins and outs of social media from Liz Hausman of Houzz along with top Houston Interior Designers, Marie Flanigan, Lori Toups and Laura Umansky. Our savvy panel will discuss how to use Houzz to market yourself, gain more clients, and attract attention from the press. Showroom reception to follow.
10:30 AM – 11:30 AM
KEYNOTE, Ground Floor Gallery
Comfortable Elegance
Do designers have to sacrifice comfort for elegance? Do clients resist elegance in favor of comfort? Have our definitions of both elegance and comfort changed in recent years, and if so, how? Join hide furniture impresario Kyle Bunting, acclaimed Los Angeles designer Timothy Corrigan, Houston designer Nina Magon and Interiors Editorial Director Michael Wollaeger for a lively discussion about what comfort and elegance mean today and how designers can achieve both for their clients.
11:30 AM – 12:30 PM
Schumacher / Patterson Flynn Martin, Suite 4017
Keynote Reception & Book Signing
Immediately following the keynote presentation, join designer Timothy Corrigan for a reception to celebrate the launch of his debut collection of fabrics, furnishings and rugs exclusively for Schumacher and Patterson Flynn Martin. The talented designer marries an Old World sense of elegance with a California brand of comfort for a look that's chic, livable and truly formidable. Timothy will also be signing copies of his book, An Invitation to Château du Grand-Lucé.
David Sutherland Showroom, Suite 170
Keynote Reception
Join Kyle Bunting at the David Sutherland Showroom for a special reception and get a first-hand look of his extensive collection.
12:30 – 1:30 PM
Ellouise Abbott Showrooms, Suite 3010
Book Signing: LINENS: For Every Room and Occasion
Ellouise Abbott Showrooms invites you to meet Jane Scott Hodges at a book signing event celebrating LINENS: For Every Room and Occasion.
1:00 – 2:00 PM
Donghia, Suite 1000
Multifarious: Maya Romanoff's Grand Canvas
Join Jennifer Block, Vice President of Maya Romanoff, as she presents the new biography by CityFiles Press, Multifarious: Maya Romanoff's Grand Canvas. Both a memorial and a tribute to a life well-lived. Bubbles and bites will be served.
2:00 – 3:00 PM
Stark, Suite 1010
Gary McBournie Signs His New Book, Living Color
Stark welcomes top interior designer Gary McBournie, who will sign copies of his engaging book, "Living Color." Known for creating colorful twists on traditional interiors in his seemingly endless color palette, McBournie writes about his childhood, as a curious and creative boy with a penchant for painting and the well-designed home, as well as his career as a prolific designer working his magic on projects in NYC, Nantucket, Palm Beach, California and the UK.
3:00 – 5:00 PM
Hokanson, Suite 190
Preview of The Shadow Collection, Cocktail Party and Psychic Reading
You are invited to preview Hokanson's newest collection – THE SHADOW COLLECTION! Delve into the mysteries of this gorgeous and luxurious silk and wool shadow theme created by the artisans of Hokanson. At the same time have your future fore told by our mistress of the beyond! Learn about the Shadow Collection and enjoy some cocktails and bites!  We have been fore told of your attendance!
3:00 – 4:00 PM
Andrew Martin, Suite 1050
Designing For His & Hers: Spring Blossoms
Who needs spring cleaning when you can spring design? Andrew Martin is pleased to host the talented interior designer Pamela O'Brien, of Pamela Hope Designs as she presents a fun yet enlightening discussion on "Designing for the Sexes: Spring Blossoms". Pamela will share the endless possibilities and challenges that arise when combining his, hers, and ours into one cohesive design.
4:00 – 5:30 PM
Eggersmann Kitchens | Home Living, Suite 250
Design Trends with a Splash of Pura Vida Tequila
Meet multi-award winning designer and contestant on NBC's "American Dream Builders" Nina Magon for a lively discussion while indulging in a superior Pura Vida Tequila cocktail.
5:30 – 6:30 PM
STARS OF DESIGN AND STARS ON THE RISE 2014 AWARS CEREMONY
Ground Floor Gallery
Please join Charles S. Cohen President/CEO of Decorative Center Houston to celebrate the 2014 Stars of Design and Stars on the Rise Awards.
Stars of Design
Lifetime Achievement: Pamela Pierce
Architecture: Dillon Kyle, AIA, Dillon Kyle Architecture
Art: Howard Sherman
Graphic Design: Lana Rigsby & Thomas Hull, Rigsby Hull
Interior Design: Ginger Barber, ASID
Jewelry Design: Elaine Turner, Elaine Turner Designs LLC.
Landscape Design: Ted Gregory & Steve Henry, Gregory/Henry Landscape Design & Installation
Photography: Karen Sachar, Karen Sachar Photography
Stars on the Rise
Kelly Cusimano, AIA
Catherine Brooks Giuffre
Ben Johnston
Julie McGarr
6:30 – 8:00 PM
Nancy Ellison Altered Egos Gallery Opening and Reception
Suite 107
Open Houses
9:00 AM – 5:00 PM
Cabinet Innovations, Suite 219
Sparkle and Treats
Spring is here! Join us for Sparkle and Treats! We'll have a small 
presentation on newest trends featuring on newest showroom display "Modern Vintage".
Duralee/Highland Court, Suite 132
Duralee is pleased to invite you to stop in for light refreshments and to view the latest from Duralee, including our newest licensed collection, Duralee Designer: Tilton Fenwick and the recently revived brand Bailey & Griffin. In addition, we encourage you to sit, feel and experience our beautiful and innovative furniture frames from Duralee Furniture.
Fabricut, Suite 3022
Vibrant And Fresh: Dana Gibson For Stroheim
Stroheim introduces a vibrantly fresh fabrics and wallcoverings collection from ceramics artist Dana Gibson. Inspired by traditional designs from far-flung and familiar places, this collection features ancient ikats, curvaceous ogees, intricate fretwork designs and small-scale coordinates rendered in colorful strokes. Through Dana's brushstrokes, centuries old designs are made new, fresh and modern to brighten and transform any space. Stop in for a treat and see this collection along with what's new this season from Fabricut, Stroheim, Vervain and S. Harris!
Pindler, Suite 4021
Please join Pindler for an Open House during Spring Market. Stop by for some tasty treats and to view Pindler's newest Spring Collections.
Sherle Wagner, Suite 1014
Lovers Of The Exquisite
Please join Sherle Wagner for a Jewelry Trunk Show during Spring Market! Our opulent bath fixtures and accessories that have inspired the world since 1945 and exquisite jewelry by Elizabeth Frost Designs will be showcased in our jewel box, Suite 1014. Elizabeth shares Sherle Wagner's obsession with excellence and has been inspired by our values that are set in stone, onyx, malachite and amethyst. Come and browse our magnificent jewelry for your home and yourself! Wine and light hors d'oeuvres to be served.
11:30 AM – 5:00 PM
John Brooks, Suite 2001
Celebrating 30 years with Swaim
Mr. Brad Dobbins joins the staff of John Brooks to celebrate their 30 Year Anniversary with SWAIM. View new Swaim samples from all of their divisions. See their new fabrics. Join Brad in a discussion of Swaim's custom capabilities.